Training Seminars Related to Business Management
Staff training seminars
The modern workplace can be a place to invest personal goals, a place of personal development and creation.
The emotional climate created in the workplace affects both the performance for the benefit of the company and the quality of life of the employee himself.
Modern business management is not only concerned with the management of crises that will undoubtedly arise, but also with the prevention of tensions and malfunctions.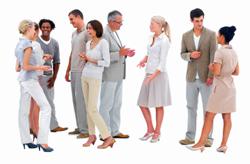 Caring for employees offers the development of work functionality, as it allows the highlighting of strengths and abilities. A care that is not limited to bonuses, but highlights the importance of the employee's face.
Knowledge of the dynamics of professional teams enables the development of functional relationships between team members, since it favors the understanding of factors such as motivations-desires, abilities, values, diversity, functional communication, goals, strategic thinking and the ability to make decisions.
Staff training seminars focus on the study of all these factors, but without ignoring the principles of hierarchy. They are designed to adapt to the particularities of different professional spaces and offer the necessary information in an experiential, participatory way that allows personal renewal and decision-making for new perspectives.