Adolescents Therapy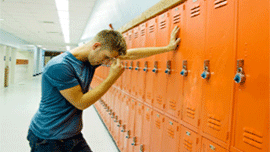 Adolescents Therapy
Adolescence is a developmental phase between the experience of childhood, related directly with family, and the varied challenges and chances of adulthood.
Adolescents need to develop new skills, in order to be able to live today in a word constantly changing:
Feeling secure in an unstable environment, being able to make the important decisions for their future, becoming member of different teams, while maintaining their uniqueness.
During their therapy, questions concerning the adolescent's behaviours will come to surface, as well as their relationship with the personal beliefs, choices and attitudes of the parents, who are now questioned.
For the formation of his identity, the adolscent needs to belong in a stable system. The achievement of a healthy autonomy for the adolescent, requires from the parents to remain alive with a personal purpose for life and healthy personal relationships.
Adolescents personal therapy premises clear rules of honesty, appreciation, approval and availability. Inside this context, the adolescent experiences a functional way to relate, which he will eventually use in his own life, undertaking his personal responsibility.

Only when the parents also work therapeutically will the adolescent's therapy be effective.
So teenagers are neither angels nor devils. They are people with abilities and weaknesses.